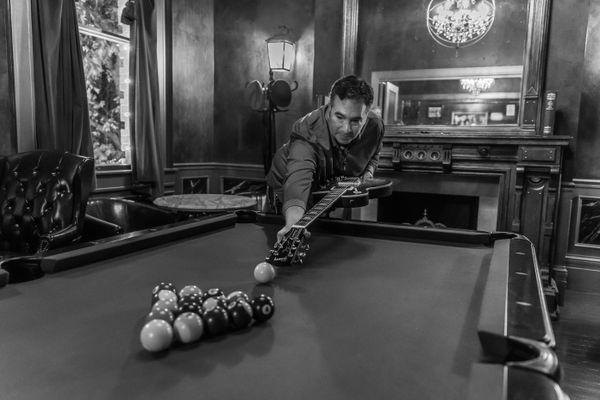 Original Music by Scott Cunningham
0:00/4:18

0:00/4:09

0:00/3:43

0:00/3:43
Growing up in Upstate New York, Scott grew up in a household full of diverse musical inspirations.  His father studied classical music, and played several instruments including violin, piano, saxophone, and was hailed as an accordion prodigy that had played live on the radio by the age of 5 years old, later becoming a highly sought out baritone vocalist.  Scott's mother was also a gifted pianist and was an outstanding singer as well and loved melodic rock, jazz, and disco.  Scott's earliest memories musically were when his oldest brother would play albums from The Beatles, ABBA, Fleetwood Mac, Electric Light Orchestra and other popular 70's music of that time from his turntable.  Both of Scott's parents were very established singers and their talents were showcased many times as soloists in the church choirs, at weddings, and other events.  Music was everywhere in their household.    
As a musician himself, Scott took guitar lessons at the age of twelve.  Though Scott always had a passion for performing and listening to music, playing sports would temporarily get in the way of Scott pursuing music seriously at a young age.  Then the passion for playing the guitar re-emerged when he was twenty.  Scott would find himself working tirelessly learning riffs and songs from his guitar playing hero's like Matthias Jabs, Ace Frehley, Eddie Van Halen, Jake E. Lee, Michael Schenker, Steve Vai, and later from the likes of John Petrucci, Lindsey Buckingham, Paul Gilbert, and many others.  From that point forward, Scott has dedicated years on developing a smooth, contemporary, dynamic style in which he plays, that combines mass appeal songwriting coupled with tasteful and emotionally charged solos.
Scott has performed for over 20 years in several different projects and bands, but is now showcasing his songwriting as well as his exciting guitar playing abilities in what will undoubtedly be the greatest testament of his talents.